COLLECTED EDITORIALS FROM ANALOG
John W. Campbell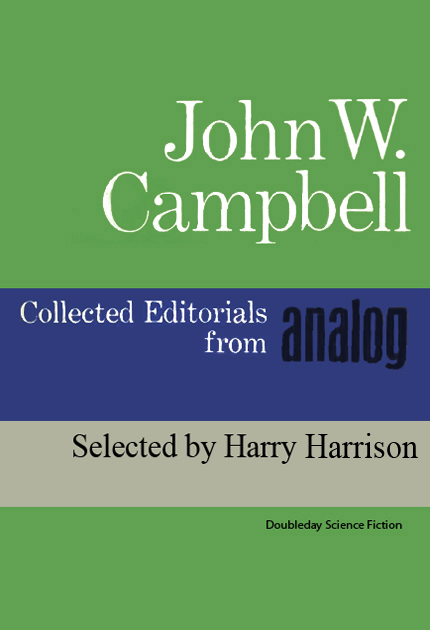 Titolo:
Collected Editorials from Analog
Anno:
1966
Genere:
Storia e politica
Lingua:
Inglese
formato:
Html
dimensioni:
828 Kb
Autore:
Campbell fu, a partire dal 1937 e per i 30 anni successivi, il direttore della rivista Astounding Stories (nata nel 1930 come Astounding Stories of Super-Science e divenuta nel 1960 Analog Science Fact & Fiction). Con tale titolo Campbell compì passi importanti nella direzione dell'accuratezza scientifica e della consapevolezza stilistica della letteratura fantascientifica americana, indirizzandola verso una dimensione più legata all'ambito dell'immaginario e dell'avventura, nonché verso una decisiva maturazione letteraria.
Estratto:
When I was fifteen years old I thought John W. Campbell was God. Since that time I have altered my views a bit - but I am sure that there must be boys that age who are today reading Analog with much the same emotion. While teen-age enthusiasms are a commonplace, it must be realized that a difference exists here, for this is the same magazine that Albert Einstein subscribed to, the one that Wernher von Braun had sent to him by way of Sweden during the war, so that he would not miss a single issue.
John W. Campbell became editor of Astounding Stories in 1937, a position that he has held ever since. He guided the metamorphosis of that garish-covered pulp magazine through a number of wonderful and intricate title changes and physical shapes, to its present form as Analog Science Fiction/Science Fact. Or more simply, Analog - or ASF - to its quarter of a million readers and vociferous supporters. Every issue of ASF since 1938 has contained an editorial by John W. Campbell. In the very early years these usually took the form of a boxed page of description of the stories in the issue or future plans for the magazine, ordinary editor-reader matters. However odd bits of information and opinion began to creep in, until all the references to the fiction were squeezed out of the editorial and formed into other departments of the magazine. The editorials took on a unique character of their own, they became Campbell Editorials, and have been the center of controversy ever since.
Orario di seed e Banda disponibile:
senza limiti.
Messaggio modificato da books il Dec 26 2016, 06:16 PM